The Windy Meadows Studio is in Ocean Park, Washington. The Windy Meadows Pottery studio is complete at 815-318 PL (Surfside) north of Ocean Park, WA. Studio hours by chance or appointment. I have been working on a special group of Beach Cottages and some Garden Sculptures. I am accepting orders. Some stock available. All of the current work is made only by Jan. The Maryland studio has been completely moved to Washington and the old kilns no longer exist. The new kiln produces a slightly different look.
Studio Phone:
360-665-2603 or
727-612-4110 (cell)

Mailing Address:
815-318 Street, (Surfside) Ocean Park, Washington 98640
Please do sign up for our email list as that will be best way for me to keep in touch with everyone. Paper mailings will be greatly reduced.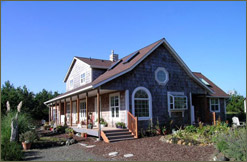 Windy Meadows Studio
Windy Meadows Pottery's cottages and candlehouses are all "hand-built" using NO MOLDS! The fine details and textures, my personally designed and developed colored stone ware and porcelain clay color accents that have become my trademark, are applied individually and can include customized wall colors, roof textures, and signage. The private collection pieces are so elaborate that some designs take up to 4 days to build. Individual construction, a second firing, and occasionally hand-painted details insure that each cottage is unique with character and personality.